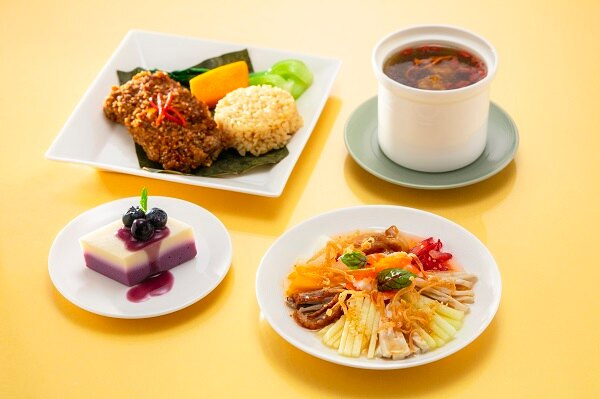 EVA Air has collaborated with Tan-style cuisine master chef Huang Ching-biao to design the inflight menu for Royal Laurel Class passengers flying from Taipei to New York, Los Angeles and San Francisco. 
The appetizer is Tan's Assorted Treasure Juliennes Platter. This dish contains shredded chicken and duck, prepared using a sophisticated cutting technique, on top of shredded abalone and jellyfish, with added fruit to enhance its aesthetic appeal. The dish is finished with Tan's sour and sweet plum sauce and crispy fried shredded spring roll wrapper. 
The main dish is aromatic Tan's Steamed Chicken Thigh Coated with Spicy Crushed Rice on Lotus Leaf Served with Pandan Flavoured Rice, which is served with Tan's Doubled Boiled Pork Spare Ribs with Cordyceps Militaris. The dining experience ends with Tan's Duet Wild and Purple Yam Cake with Blueberry Sauce, a refreshing dessert made with white and purple yam. These ingredients are said to help ensure a healthy stomach, spleen, and lungs and guard against cough. Light, healthful, and packed with exotic flavors, the dishes make for a perfect summer inflight banquet.