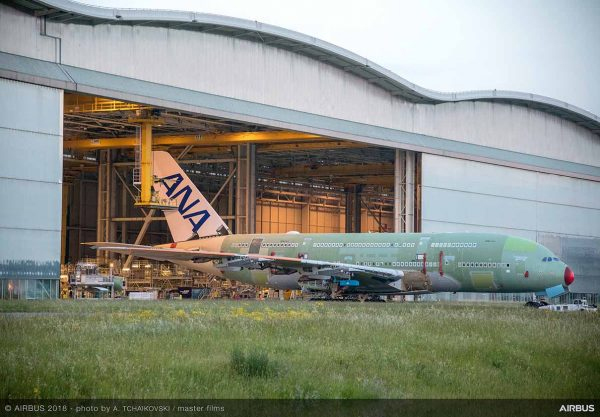 Following the start of final assembly work in April, ANA's (All Nippon Airways) first A380 has completed airframe assembly and at May 25th made its debut in Toulouse.  With the ANA logo on its vertical tail, the aircraft has moved to an outdoor station where structural completion, engine installation, and cockpit furnishing will be conducted.  System testing for electric power, hydraulic power, and air conditioning will be also conducted.
ANA's A380 will be equipped with an extraordinary premium configuration of eight First Class seats, 56 Business Class seats, 73 Premium Economy seats, and 383 Economy Class seats, which includes 60 couch seats.
ANA HOLDINGS INC.  placed a firm order of three A380s in 2016, becoming the first customer for the superjumbo in Japan.  The first delivery is scheduled early in 2019, and the A380 will initially be operated on the Tokyo-Honolulu route.  ANA's A380s will feature "FLYING HONU," special Hawaiian sea turtle livery, symbolizing good luck and prosperity.
Today 226 A380s are operated by 13 Airlines on 60 destinations, and 240 airports can accommodate the A380 around the world.