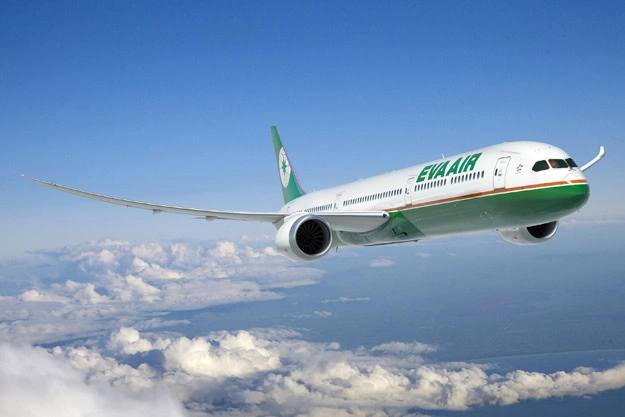 EVA Air will launch flights to three more destinations in Japan in 2019, complementing the eight gateways it is serving now. Subject to government approvals, EVA will initiate flights from Taoyuan International Airport near Taipei, Taiwan to Nagoya, Aomori and Matsuyama, starting in the second quarter and continuing through the third.
EVA plans to begin daily flights between Taipei and Nagoya on June 6, 2019, using a Boeing 787-9 Dreamliner configured for 304 passengers with 26 in Royal Laurel Class and 278 in Economy Class. Early morning departures and midafternoon returns from/to Taoyuan International Airport will make onward connections easy and convenient for passengers arriving on early morning fights from North America and Europe. Nagoya flights will operate:
During the third quarter of 2019, EVA will introduce service from Taipei to Aomori and Matsuyama. At the same time, it will increase capacity to Tokyo Narita, Osaka, Okinawa and Sendai by adding more flights on existing routes and deploying larger aircraft. After all of the airline's new Boeing 787 Dreamliners have been delivered, EVA will boost its combined flight capacity to its routes to Japan by more than 10%.
"With more Boeing 787 Dreamliners being added to EVA's fleet, we plan to reshape the Japan market and our global network strategy," said EVA President Clay Sun. "We will launch more routes to Japan, including Nagoya, Aomori, Matsuyama with the possibility of more to follow in the future. We will operate this level of increased service by using Boeing 787 Dreamliners and Airbus 330-300s on fights to Tokyo Narita and Osaka. We will also increase flight frequency to Sendai and Okinawa."
Nagoya is a main economic and transportation hub in central Japan and it's near cultural attractions such as Tateyama Kurobe Alpine, Gassho Zukuri Folk Village, Hida Takayama, Toyama, Kanazawa and more.
EVA currently operates 122 scheduled flights between Taipei and Tokyo, Osaka, Sapporo, Hakodate, Sendai, Komatsu, Fukuoka and Okinawa. It also provides 117 weekly chartered flights to Aomori, Akita, Fukushima, Kumamoto, Matsuyama, Nagasaki and Tokushima. In 2019, After EVA extends its network to Nagoya, Matsuyama and Aomori, it will be offering 146 weekly flights to Japan.