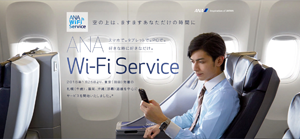 All Nippon Airways is stepping up competition by announcing it will offer complimentary in-flight Wi-Fi on 100 aircraft on board its domestic fleet by the end the 2018 fiscal year.All Nippon Airways (ANA) announced today that it will introduce free in-flight Wi-Fi service on its domestic fleet, starting next year.
The complimentary satellite-based in-flight connectivity will be available to passengers across all cabin classes as of April 1, 2018. ANA says Wi-Fi will be available on 100 aircraft by the end of the 2018 financial year, including its Boeing 777s, 787s, 767s, 737, 800s and its Airbus A321s.
According to the airline, the aim of complimentary service is to "give tourists exploring Japan an opportunity to plan their expedition wherever and whenever they wish."
Upgraded IFE
In addition to free onboard Internet, ANA also announced improvements to its in-flight entertainment. Starting from the second half of the 2019 financial year, ANA said it plans to install seatback displays, universal laptop power ports and USB ports in its Boeing 777s and 787s operating on domestic routes. The same seatback screens were introduced on two of ANA's A321neos in September and will be added to a further nine A321neos by the end of the 2018 fiscal year.
The Japanese carrier will boost its IFE content portfolio to over 100 movies, TV shows and audio options, as of April 2018. Passengers will also be able to watch live news and sports onboard through "ANA SKY LIVE TV," as an exclusive feature available only on Wi-Fi-enabled domestic flights.
A Domestic Rivalry
ANA's decision to offer free in-flight Wi-Fi on domestic routes comes after Japan Airlines (JAL) opted, in June 2017, to offer complimentary Gogo Ku-band satellite connectivity and Gogo Vision wireless IFE on flights within Japan. Prior to that announcement, JAL was offering free in-flight connectivity on a trial basis from February until August 31 of this year.
ANA's domestic in-flight Wi-Fi and onboard live TV uses Panasonic Avionics' eXConnect and eXTV services.