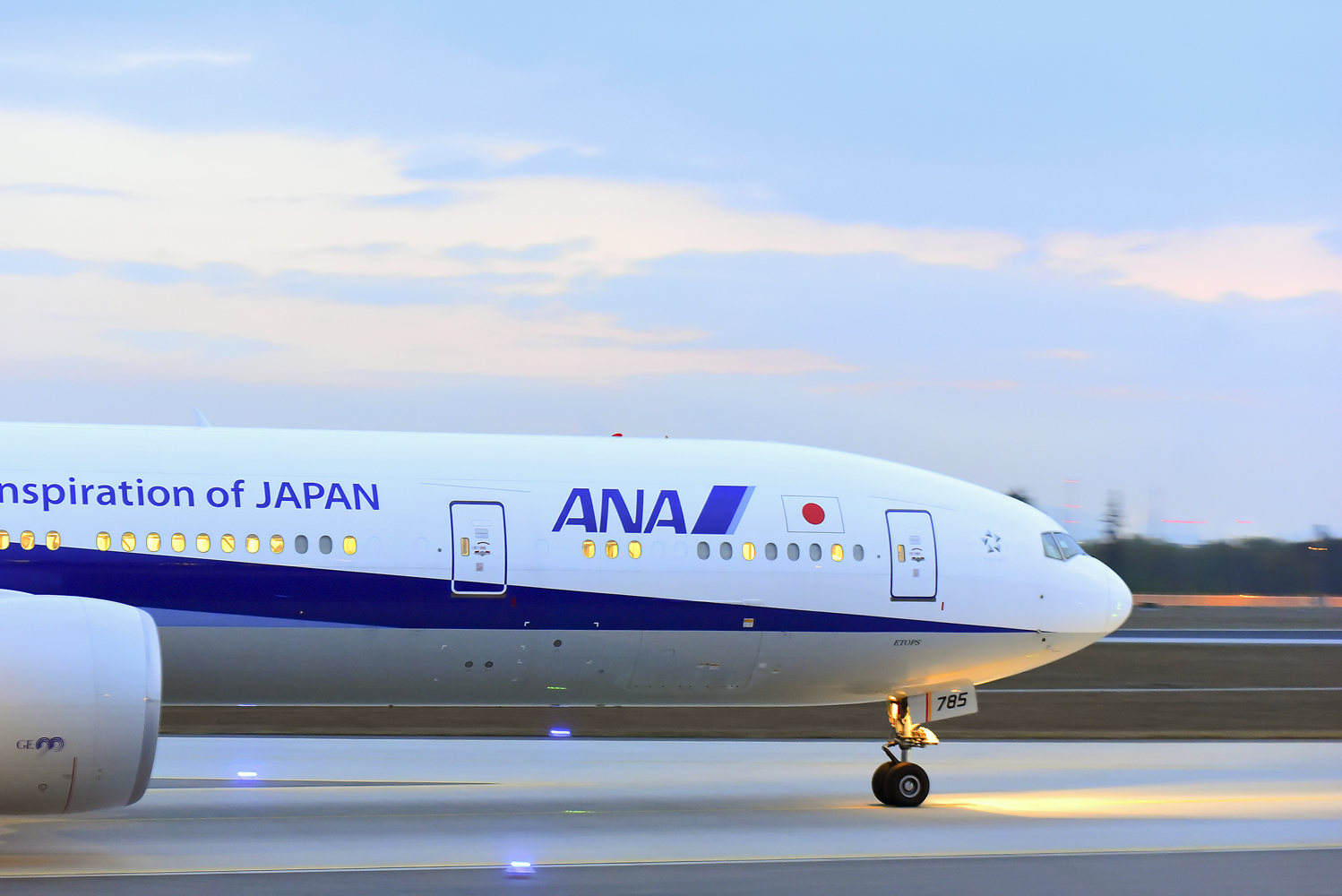 ANA to Elevate the Global Networkby Adding 5 Cities to its International Service
 Additional cities (Istanbul, Milan, Moscow, Shenzhen and Stockholm) are part of the 12new routes ANA will serve out of Haneda Airport starting in 2020.
ANA will also be increasing the frequency of the Haneda = Los Angeles and Haneda =Sydney route in 2020.
The routes are part of ANA's dual hub strategy to enhance its international network asTokyo metropolitan airports continue to expand.
TOKYO, Nov. 19, 2019 – All Nippon Airways (ANA), Japan's largest 5-Star airline for seven consecutiveyears, will expand its international network by adding five cities (Istanbul, Milan, Moscow, Shenzhen andStockholm) from Tokyo Haneda International Airport (HND) starting in summer schedule for 2020, withtickets going on sale in mid-December 2019. The addition of these routes will bring the total number ofinternational cities served by ANA flights to 521and will expand ANA's presence at Haneda Airport."There is growing demand to visit Japan, and ANA will increase its international service just as HanedaAirport also expands to adapt for inbound Japanese tourism," said Seiichi Takahashi, Senior VicePresident of ANA. "These new routes will increase the ease and convenience for passengers flying toJapan from across the world, a significant benefit of our dual hub strategy."As part of its expanded summer schedule for 2020 (March 29, 2020 – Oct. 24, 2020), ANA will offer newnon-stop service from Haneda Airport to:

Above list is by alphabetical order.Additional cities for ANA are marked with a (+):- The flights to Istanbul, Shenzhen and Stockholm will be the first ever non-stop flights from a Japanese airline.- Previous ANA flights had transited in Milan or Moscow, but this is the first time either city will be the finaldestination.In addition to these new services from Haneda Airport, ANA will also be increasing the frequency of theHaneda = Los Angeles and Haneda = Sydney routes. The Delhi, Houston, Los Angeles, San Jose,Seattle and Washington D.C. routes will be relocated from Narita International Airport. These new slotsfor Haneda increase the number of international flights ANA will offer during local daytime hours.Haneda Airport is one of two primary airports that serve the Greater Tokyo Area along with Narita Airport,acting as a gateway for international travelers who want to reach other parts of Japan. Ideally located,Haneda Airport is key to building a comprehensive network of domestic connections, and ANA'sincreased presence at the airport will aid inbound tourism and business travel beyond Tokyo itself.
1 Including Tianjin, which is served only by cargo flights.
Narita's international network will expand throughout 2020 and beyond, adding new connectionsbetween North America and Asia.In expanding its international flight network, ANA will continue to prioritize efforts to maintain andimprove service quality, ensuring punctuality, and the safe and reliable operation of its entire fleet ofaircraft.1. Overview of the timetableWith the expansion of international departure and arrival slots at Haneda Airport during the daytimesummer schedule of 2020, ANA has prepared the following timetable.
*1 Will start service as soon as preparation is completed during summer schedule for 2020. Reservations and ticket sales arescheduled to begin in mid-December. Flight schedule and the start of service will be announced at a later date.
*2 This flight is counted as one route in combination with a flight which departs during local nighttime hours.
*3 ANA currently plans to fly to Milan Malpensa Airport.
*4 ANA currently plans to fly to Moscow Domodedovo Airport
2. Flight schedule for routes starting March 29, 2020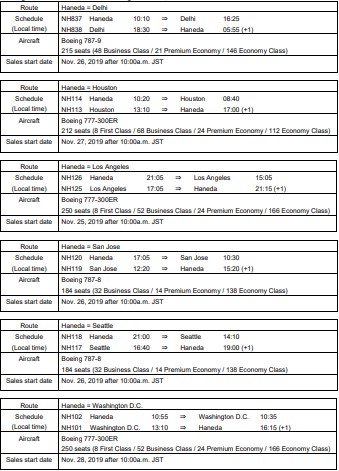 3. Adjustment of the Hanoi and Ho Chi Minh City routeStarting on March 29, 2020, the Hanoi and Ho Chi Minh City routes will be adjusted as follows.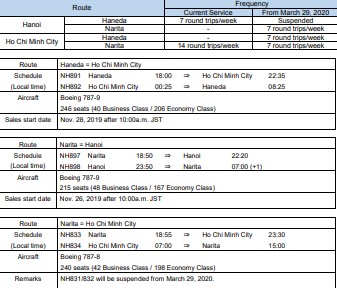 * Information inside this release is subject to government approval.
* Operation dates and aircraft types may change without notice.