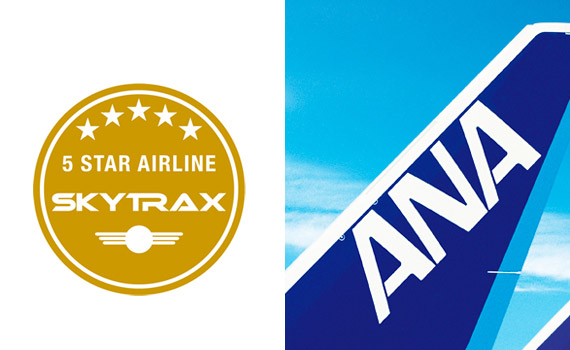 All Nippon Airways (ANA) has been awarded the maximum 5-Star rating under the World Airlines Star Ratings (http://www.airlinequality.com/ratings/) by the UK-based company SKYTRAX (*1), for the sixth consecutive year since 2013. ANA remains the only 5-Star rated airline in Japan, and one of very few such airlines around the world.
SKYTRAX only awards the 5-Star rating to airlines whose passengers can experience "5-Star level" service in more than 800 categories ranging from airport to in-flight services. The award of this sixth consecutive 5-Star rating represents SKYTRAX's recognition of the consistently high-quality level of service achieved by ANA's staff as well as the airline's efforts to constantly improve its products and services to make passengers' flights safer and more comfortable.
ANA is committed to maintaining the SKYTRAX 5-Star rating by ensuring a thorough focus on customer service throughout the group, working to provide an even more comprehensive and sophisticated service to all of our passengers.
In addition to receiving the 5-Star rating in 2017 in appreciation to our high service level, we have continued striving to provide genuine hospitality as a Japanese airline, and also carried out the following initiatives over the past year:
・ Launched a daily "Chef Service" at ANA LOUNGE at the international terminal at Haneda Airport, where the chef directly serves customers, allowing guests to enjoy delicious and freshly-prepared food.・ Set up a new "Star Wars ANA Kids Lounge" inside ANA LOUNGE at Haneda Airport Terminal 2. The lounge provides a safe, entertaining environment for younger children, equipped with slides, long sofas, picture books, and soft matting on the floor.・ Started providing sake in Economy Class on international flights, earning very favorable reception.・ Deployed the newest model Boeing 787-9 on all flights to Honolulu.・ Became the first Japanese airline to introduce the Airbus A321neo aircraft on domestic flights. With electrically powered seats in Premium Class and personal monitors for every seat, which is a first for ANA's domestic route flights, the A321neo aircraft provides a completely new in-flight experience.・ Renovated the domestic ANA LOUNGE at Sapporo airport with renowned architect Kengo Kuma. The renovation includes a new ANA SUITE LOUNGE, ANA's highest-grade lounge for premium passengers on domestic routes, creating a venue for the enjoyment of ANA's unparalleled hospitality.・ Introduced the new ANA Fast Travel boarding service at Sapporo airport, following a successful roll out at Haneda Airport Terminal 2.・ Improved the cabin crew training and systems for sharing information in order to provide an even more personalized service for each passenger.(*1) SKYTRAX, founded in 1989, is an airline industry rating company based in London, England. In addition to rating airlines 1-Star through 5-Star at the World Airline Ratings, SKYTRAX also hosts the annual World Airline Awards, which recognize and reward airlines selected from more than 200 airlines worldwide based on the results of SKYTRAX's on proprietary online surveys and other surveys. ANA's record of success at the World Airline Awards is listed below.
◆ 2011 World's Best Airport Services / Staff Service Excellence, Asia
◆ 2012 Best Transpacific Airline
◆ 2013 World's Best Airport Services / Best Cabin Cleanliness
◆ 2014 World's Best Airport Services / Best Transpacific Airline
◆ 2015 World's Best Airport Services / Best Airline Staff in Asia
◆ 2016 World's Best Airport Services / Best Airline Staff in Asia
◆ 2017 World's Best Airport Services / Best Airline Staff in Asia