▪ From November 12, ANA will expand referral service to medical institutions offering a set of PCR tests and certification forms for negative result for passengers on international flights departing from Japan.
▪ Test results will be available in multiple languages including English and Chinese, and certificates will be issued according to the designated forms of over 150 countries respectively.
TOKYO, Nov. 12, 2021 – All Nippon Airways (ANA), Japan's largest and 5-Star airline for nine consecutive years, has partnered with Mita Kokusai Building Clinic and Inbound Platform Corp. to offer PCR tests in multiple languages as well as certification forms for negative result according to the designated forms of countries. Beginning today, ANA will make this service available to passengers on international flights departing from Japan to ensure that they are able to meet entry and quarantine guidelines at their destinations.
"We are excited to expand our service of testing options to help ensure that all passengers have a safe travel experience and meet local entry requirements at their destination," said Junko Yazawa, Executive Vice President, Customer Experience Management & Planning of ANA. "By increasing the availability of tests and offering additional certification options, we are confident that ANA passengers will be able to travel with additional comfort and security. As international travel begins to return, ANA wants to do all we can to ensure that convenience is enhanced wherever possible."
As the entry requirements differ by country, ANA began a referral service on the ANA website in early October to obtain the necessary documents for seamless entry. In order to prepare for the return of international travel, ANA will expand the number of available languages to include not only Japanese, but also English, Chinese, and other languages for testing, and issue certificates according to the designated forms of more than 150 countries.
Service schedule: to begin from November 12, 2021, 15:00
Website: https://www.ana.co.jp/en/jp/international/prepare/pcr-portal/
Applicable customers: Customers who have purchased ANA international flight tickets.
Codeshare flights are available when purchased with an ANA flight number.
New Partner Clinics: (1) Mita Kokusai Building Clinic
(2) T Care Clinic (Online booking site: "clinic nearme T Care Clinic")*
*Clinic partnered by Inbound Platform Corp.
Language for PCR testing: (1) Japanese, English, and Chinese.
To be expanded sequentially
For languages other than the above, please use the inquiry form.
(2) Japanese, English, Chinese, Korean, Vietnamese, Spanish and French.
*To be expanded sequentially
Procedure: After purchasing ANA international flight ticket, access the clinic page from the website.
ANA NEWS
Applications will be made from the clinic page.
*For the latest information on travel requirements and related information, please check the Ministry of Foreign Affairs' overseas safety website, the embassy or consulate of your destination country and health institutions.
*For inquiries about tests and costs, please contact the clinic directly.
List of PCR testing services when traveling from Japan to overseas: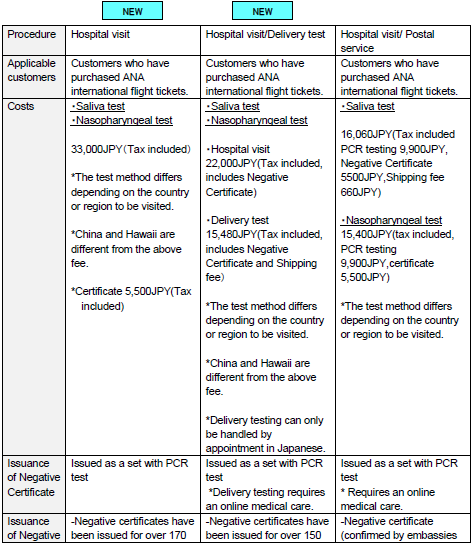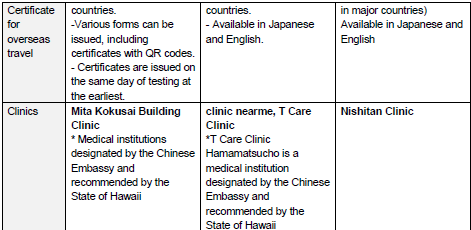 Contact: ANA Corporate Communications, TEL +81-3-6735-1111, publicrelations@ana.co.jp
About ANA
Founded in 1952 with just two helicopters, All Nippon Airways (ANA) has grown to become the largest airline in Japan. ANA HOLDINGS Inc. (ANA HD) was established in 2013 as the largest airline group holding company in Japan, comprising 71 companies including ANA and Peach Aviation, the leading LCC in Japan.
ANA is a launch customer and the largest operator of the Boeing 787 Dreamliner, making ANA HD the biggest Dreamliner owner in the world. A member of Star Alliance since 1999, ANA has joint venture agreements with United Airlines, Lufthansa German Airlines, Swiss International Airlines, Austrian Airlines and Brussels Airlines – giving it a truly global presence.
The airline's legacy of superior service has helped it earn SKYTRAX's respected 5-Star rating every year since 2013, with ANA being the only Japanese airline to win this prestigious designation for nine consecutive years. ANA also has been recognized by Air Transport World as "Airline of the Year" three times (2007, 2013 and 2018); it is one of only a select few airlines to win this prominent award multiple times.
In 2021, ANA was awarded the 5-star COVID-19 safety rating by SKYTRAX, recognizing the airline's initiatives to provide a safe, clean and hygienic environment at airports and aboard aircraft, embodied in the ANA Care Promise.
ANA is the only company in the aviation industry to receive the Gold Class distinction from the 2021 S&P Global Sustainability Awards and ANA HD has been selected as a member of the Dow Jones Sustainability World Index list for the fourth consecutive year and the Dow Jones Sustainability Asia Pacific Index list for the fifth consecutive year.
For more information, please refer to the following link.
https://www.ana.co.jp/group/en/