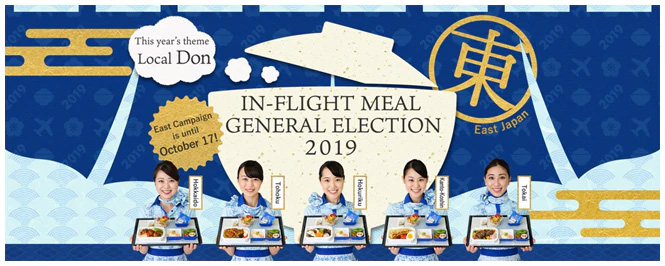 Contest will determine the next additions to ANA's in-flight menu for Premium Economy and Economy Class.
 All Nippon Airways (ANA), Japan's largest 5-Star airline for seven consecutive years, is inviting the public to vote on which dishes will be added to its in-flight menu for Premium Economy and Economy Class passengers. The competition dates back to 2013, with ANA adding new in-flight dishes every year. This year, the 10 possible additions are all Donburi, a traditional Japanese rice bowl meal. Recent years, the new dishes represent a different category of Japanese cuisine, with last year's competitionOpens in a new window being based around curry dishes.
"We are always looking for new ways to give our passengers a voice and inviting their input on the services that we offer in order to create a more responsive airline," said Hideki Kunugi, Executive Vice President of ANA. "Voting via the internet and social media platforms is a fun way for the public to make their opinion heard and ensure that our offerings align with their interests. ANA will continue prioritizing consumer input as we align every aspect of the in-flight experience with passenger needs."
Culinary excellence, authentic cuisineOpens in a new window and diverse food optionsOpens in a new window have always been priorities for ANA, and all 10 dishes have been created by the elite ANA "THE CONNOISSEURSOpens in a new window" chef team. The donburi dishes are meant to capture the local flavor of 10 distinct Japanese regions. There will be two different voting periods, with participants choosing their favorite dishes from eastern Japan and western Japan.
The first voting period will open on October 8, 10 a.m. JST and run until October 17, 11:59 p.m. JST. This seventh annual in-flight meal general election will determine the top two dishes from Japan's eastern regions. The next voting period will last from October 18, 10:00 a.m. JST until October 27, 11:59 p.m. JST and determine the top two dishes inspired by western Japan. This will result in four winning dishes, two from each part of Japan. Voting will be open to ANA customers from all over the world, with the top four vote getters will be served on Premium Economy and Economy Class international flights departing from Japan starting in March 2020.
ANA is launching a specially designed website in JapaneseOpens in a new window and EnglishOpens in a new window for the contest, and voting will also take place on WeiboOpens in a new window. After the votes have been tallied, ANA will announce the winning donburi dishes on Facebook, Twitter and on the ANA special website in mid-November. The specific routes for each dish will be announced in February 2020.