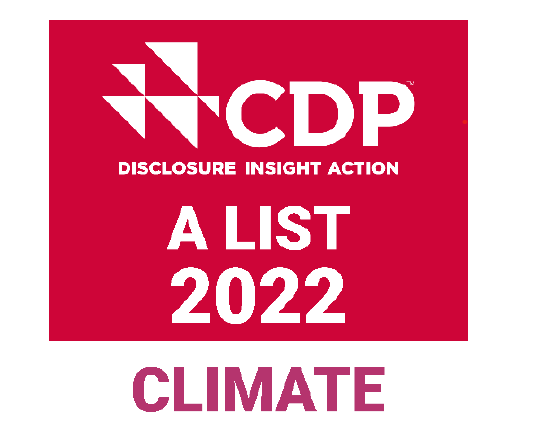 ANA HOLDINGS has been selected as a company of global excellence for its progressive initiatives and information disclosure on climate change.
This is the first time that ANA HOLDINGS has been selected as an 'A List' company.
TOKYO, Dec. 13, 2022 – ANA HOLDINGS INC. (hereinafter "ANA HD") has been recognized for leadership in corporate transparency and performance on climate change by global environmental non-profit CDP*, securing a place on its annual 'A List', for the first time.
ANA Group recognizes that actions to minimize climate change are one of its most important management issues and has set a long-term environmental goal of reaching net zero by FY2050. To ensure we are making progress towards this goal, we have established specific targets through FY2030 and are actively promoting initiatives as a leading airline group in the environmental and sustainability fields. Our efforts to reduce CO2 emissions in aircraft operations are centered on the low-carbon use of aviation fuel, including operational improvements, the introduction of fuel-efficient aircraft, and efforts to utilize SAF (Sustainable Aviation Fuel) with various stakeholders.
In addition, in December 2022, we set a target to reduce greenhouse gas (CO2) emissions and obtained science-based targets (SBT) certification. Also, we have published the results of our scenario analysis of the impact of climate change on the ANA Group aviation business, in line with the recommendations of the Task Force on Climate-related Financial Disclosure (TCFD).
Through our ANA Future Promise initiative and other efforts, ANA HD will continue to proactively work to incorporate initiatives to reduce CO2 emissions and pursue sustainability in the aviation industry to contribute to the realization of a carbon-neutral society.
* CDP is a global non-profit founded in 2000,that runs the world's environmental disclosure system for companies, cities, states and regions.
In 2022, over 680 investors with over US$130 trillion in assets and 280 major purchasers with US$6.4 trillion in procurement spend requested companies to disclose data on environmental impacts, risks and opportunities through CDP's platform. A record-breaking 18,700 companies responded.
ANA HOLDINGS NEWS